Get Stuck On Happy
30 Ways To Change Your Thoughts And Live A Happier Life
by Janet Legere
Praise for Get Stuck on Happy!
Barb: The book is absolutely you Janet!!  It is a no-nonsense overview of all the practices that you have made a part of your everyday life. I love that it is short and simple and that the ideas are written in a " want this… then practice" this form. You have reinvented the present day's teachings of the "New Testament" in a pocketbook!!
Maureen: Janet Legere's latest book is a must-read.  Extremely well written. Lots of suggestions and links to put anyone's mind in a happier place. The book reflects Janet's personality, her kindness and willingness to help others.
Pam: Janet, Janet, Janet, how you make me smile which appropriately makes me Happy!  I so enjoyed reading and reflecting on your passion for such a needed and underrated "commodity".  You send your message out with joy and enthusiasm, sharing selflessly with all. You are amazing, nice work. Happiness and Joy
Will:  Janet has been in and out of my life for over 13 years. Throughout all those years there was always a guarantee; a smile, a hearty laugh, a pep talk, or brutal honesty. This book is a fantastic attempt to bring Janet's light to your world. I strongly urge you to read this book all the way through once, reflect on the simplicity of her heartfelt gift to you. When you read it the second time, stop and use the tools she has acquired through years of experience as a real person using the education of life to help you find your happy. I cannot say enough about how thrilled I am you got your hands on this book. Janet will help you find the most important thing in life…happiness.
Claudia Adcock: Janet has written her 30 ways to be happy in a very thorough and productive manner that will help anyone that would love to be more happy on a daily basis… I have and still use these 30 steps and have become a much more loving person and feel I can accomplish anything! …I highly recommend this book to everyone! Anyone can benefit immensely by following these 30 steps to being happy. Be prepared to start living a happier life.
Laura Vero-Augustine:  … This book is everything it promises to be. If you put her advice into practice, you will absolutely, without fail, be a happier person for it, and your family will be too.
Tammy Holt-Cote: Bravo. Janet's secret ingredients to happiness have finally been revealed. Her daily positive thoughts and attitude are truly contagious and inspiring. You always leave her company happier than when you arrived. Now we can all be that happy person you want to meet.
Jane Mark: I read Get Stuck On Happy yesterday and… Today it inspired me to write a Happy Card. It reads: Make Someone Laugh today. I followed that with some deep breathing before plunging into a day of work… I love [this] book which is thoughtful and lays out a wonderful path to a creative and a life full of joy… Everyone should read Get Stuck on Happy. It will change the way you look at many everyday things and give you a hook to hang your hat on to live a happier life.
Steve Gaghagen: You are holding in your hands a simple, yet powerful road map to happiness. Janet has created that map based on her own journey and her years of helping others in business and in their personal lives. I can tell you, if you follow these simple practices, your life will change for the better… as Janet says, "CAUTION: Side effects may include: more laughter, more loving feelings, more happiness, more glee, more joy, and a lot of giggling … Proceed at your own risk!"
Marg Pinard: Janet is the most genuine, happy person on the inspirational scene, helping others bring joy to their life. 'Get Stuck On Happy' effortlessly combines tools and examples designed for all to live their lives, as we should. HAPPY! Thank you Jan for your never-ending friendship and thank you for being you.
Grace Brochu: I love it because it's the kind of book that you want to read and then refer back to at certain times in your life
Terresa Burdick: Have you ever met someone and from the very first everything felt in sync? Like you were resuming a long, comfortable friendship? That is how it was for me meeting Janet. Although I feel very fortunate to call her my friend I don't for a minute think I am in an elite group, as Janet makes everyone she touches feel that way. This lovely book embodies everything she is and gives us all the opportunity to live our best lives. Happiness is not based on grand gestures, rather simple, loving, heartfelt motions that when incorporated into your own life can change those around you exponentially. Be kind to yourself and read and practice each page…then share with all you know! A heartfelt thank you, Janet.
Ande Anderson,  Co-Founder of AVAIYA (www.AVAIYA.com): Happiness, light, and joy ooze from the pages in Janet's new book! She provides the reader with simple, concise activities to take on to help them change how they think about and perceive the events in their lives. What I love about these activities is that they are concise and doable, even for the busiest person! Thanks for making it so easy to Get Stuck on Happy, Janet!
Marshall Sylver (www.MarshallSylver.com: Can a book make you happy?  One sure can. In "Get Stuck on Happy" Janet Legere takes you on a trip to a place you will never want to leave. The book is intimate, real, and has the ability to help you live in happiness just about all the time. It's filled with simple yet powerful techniques for living joyfully in the present moment. Get the book for a loved one, for yourself, just be sure to get the book now.
Follow us on Facebook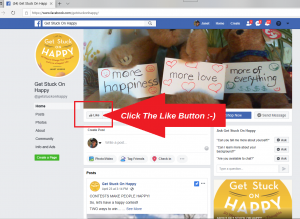 Order your copy of 'Get Stuck on Happy'